THE MILL IS NOW CLOSED & WILL RE-OPEN IN APRIL
FANTAIL NEWS
We had so hoped to send out a November Fantail to all our members but unfortunately now find that time is running out for this to be completed. Many different problems have contributed – people have been unwell and unable to operate at their usual level of excellence, and my computer decided to have problems and had to be sent away to Currys for repair.          I am happy to say that everyone has survived but with Christmas looming and Covid misbehaving once again, we have decided to delay production of the next Fantail until the new year when we will be able to bring you up-to-date with all the news, let you have a list of everything planned for 2022 and send you some photos of what has been happening over the last months.  Please accept our apologies.
THE EDITOR
THE FOLLOWING EVENTS WILL BE HELD THIS YEAR:
All of the above subject to any Covid restrictions imposed by H.M. Government.
We will be open during the season on Saturdays, Sundays and Bank Holiday Mondays from 2pm to 5pm. We are also open Wednesday afternoons 2-5pm during July & August. Last entry for mill tours is 4pm. Tours last between 45 minutes & 1 hour.
Because we have weddings at the Mill
on some of the Saturdays,
the mill will be closed to visitors.
There is a list of wedding dates below!
VISITOR PARKING
Please note our small car park in Mill Lane is reserved for disabled visitors only.
Our main car park is in Cornes Close. For those using sat-nav the postcode is TN24 0LG.
NEW VOLUNTEERS
If you are interested in becoming a volunteer at the Mill and would like to see what is involved, please contact us so we can Let you know when we will be holding our next open day. If you would like to come along or would like more information please contact us on 01233 733416 or email paw4@btinternet.com.
FOR MORE INFORMATION ON ANY OF OUR EVENTS OR TO MAKE A BOOKING
PLEASE TELEPHONE PAT ON (01233) 733416.
Opening Times unless otherwise stated
We will be open during the season on Saturdays, Sundays and Bank Holiday Mondays from 2pm to 5pm. We are also open Wednesday afternoons 2-5pm during July & August. Last entry for mill tours is 4pm Tickets for a guided tour of the mill are; £5.00 for adults, £2.50 for children & concessions or £10.00 for a family ticket ( based on two adults & two children). Entrance to the cafe/barn is free. Because we have weddings at the Mill on some of the Saturdays, the mill will be closed to visitors. It is as well to check before visiting. Send us an email and we can let you know what we are doing. Sundays and Bank Holidays Mondays will always be available for visitors. There is a list of wedding dates below! Children are always welcome Disabled toilet facilities (All dates correct at time of going to press) All money raised at our events goes towards the continuing restoration of the mill. The Barn is continually available for bookings throughout the year. For more information phone Pat White on 01233 733416
WHEELS OF TIME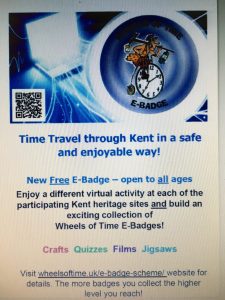 OUTLETS SELLING OUR FLOUR
Pluckley Farm Shop. Smarden Rd. Pluckley. TN27 0RF. 01233 840400
Giblet Oak Farm Shop. Appledore Rd. Tenterden. TN30 7DH. 01580 763938
Perry Court Farm Shop. Canterbury Rd. Boughton Aluph. TN25 4ES. 01233 878063
4 Seasons Farm Shop. Kingsnorth Rd. Kingsnorth. TN26 1NJ. 01233 878063
Willesborough Windmill. Mill Lane. Willesborough .TN24 0QG. 01233 661866
Associated web sites
www.wheelsoftime.uk/e-badge-scheme
http://www.visitoruk.com/Ashford
http://www.visitashfordandtenterden.co.uk/